Let's get the facts straight
Not all mānuka honey is equal, even when it bears industry-certified grading or badges. Uncertified mānuka honey can vary in its purity and is likely to be blended with other botanicals. To ensure the quality of mānuka honey, check where the honey comes from, who has made it and the UMF™ (Unique Mānuka Factor) and DHA rating. The higher the rating, the better the honey.
How do I know it's genuine mānuka?
Bees collect nectar from flowers for food. Bees are free to fly to whichever flowers they choose to collect nectar and take it back to the hive. Because of this, it is highly likely that a hive that produces mānuka honey could also be mixed with other nectar. This is more likely when beehives are located in areas where a variety of floral plants grow.
To ensure that honey labelled as mānuka actually contains significant levels of mānuka, the New Zealand government sets criteria for testing the authenticity of monofloral and multifloral mānuka honey. Find out the definition of mānuka honey as set out by New Zealand's Ministry for Primary Industries here.
Real mānuka can be measured for its level of methylglyoxal (MGO) and dihydroxyacetone (DHA). The higher the level of these properties, the higher the level of antibacterial activity available in the honey. Independent testing verifies the levels of these compounds found in our honey to ensure it is what it says it is.
It's not just independent accreditation and testing that verifies the purity of our honey. Naki Honey hives are immersed in a region so remote that we access the area by helicopter and the only pollen available for kilometres is mānuka.
Naki Honey is a honey that is abundant in antimicrobial and antioxidant elements and rich in DHA, which preserves the condition of the precious methylglyoxal levels. Mānuka's ability to retain this potency makes it sought after as a therapeutic for wound management and healing, among other ailments. Today, the use of mānuka honey to treat wounds as well as digestive and immune issues is more than anecdotal (or one of Grandma's home remedies). Mānuka's antibacterial, antiviral and anti-inflammatory properties are verified by scientific analysis, and its ability to provide beneficial support for healing is accepted by conventional medicine.
UMF™ (Unique Mānuka Factor) is the internationally recognised rating system that gives you the reassurance you are buying quality mānuka honey from a licenced producer. UMF™ references the natural antiseptic hydrogen peroxide produced when the bee harvests the nectar, as well as levels of MGO, DHA, and Leptospermum found in the honey.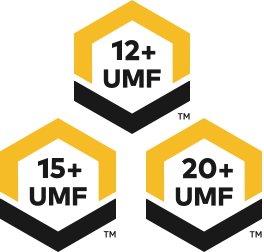 The UMF™ rating of our honey ranges from 12+ UMF™ to 20+UMF™. This number signifies the level of beneficial compounds found within the honey. We produce honey with lower levels of mānuka because not everyone needs or wants the higher strength mānuka (20+). Whatever UMF™ rating you choose, you can be assured that Naki Honey's mānuka is of the purest quality and is all derived from our hives situated amongst Taranaki's wild mānuka plants. Check your honey.
For more information on the quality and Methylglyoxal levels required for UMF™ grading,
read about the UMF™ grading system for mānuka here.